Kenya and Namibia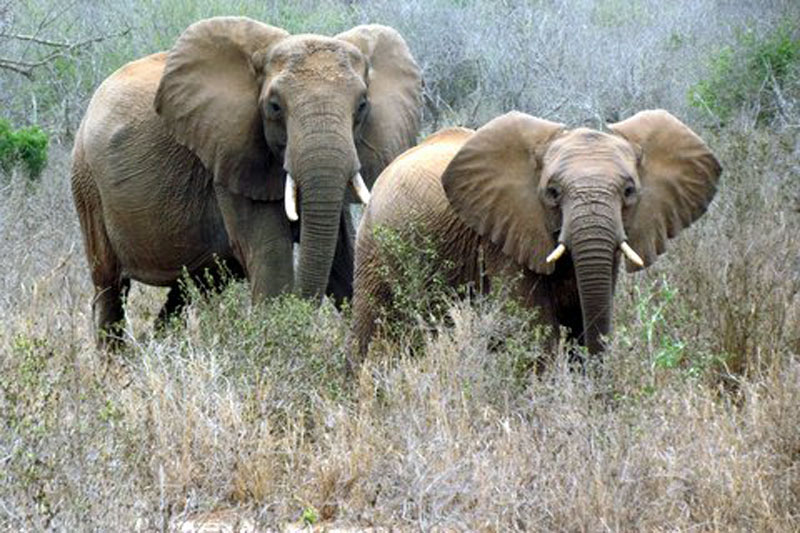 Five years ago, when we were in Botswana, Susan had the inspiration to take our grandson Zach to Africa to see the animals. Because I knew this would never happen, I agreed enthusiastically.
We arrived in Nairobi the afternoon of July 28. It had been a long trip: 15 hours from JFK to Johannesburg, then four more up to Nairobi. All our international flights were on South African Airlines, and all were comfortable and on time. The Airlines has a policy we had never encountered: holders of economy tickets can submit a bid to upgrade to business class. We tried this for the outbound flight only, and won, if that's the word for paying a lot extra. We won't make a habit of it, but it was lovely to recline completely for some of those 15 hours. We also enjoyed the SwissAir lounge at JFK.
We stayed in the Macushla Lodge in the Nairobi suburb of Karen, named for Karen Blixen, (Isak Dinesen). It is a lovely place, with excellent food. The same was true of our every accommodation--I will try not to repeat myself. A few hours after arrival we were joined by Zach and his parents, Sarah and Eric. So Zach, a month before his 8th birthday, was going to see the animals after all.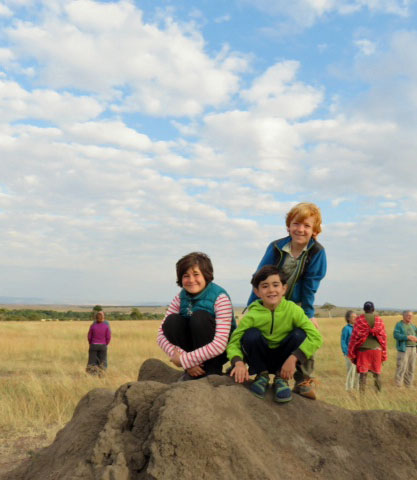 We arrived at a happy moment: much excitement about Obama's very recent visit.
Early the next morning we were driven to Wilson Airport, the local starting point for safari flights. We had been joined by Susan's cousin Ellen, her husband Charlie, daughter Tobi (10) and son Brody (8). There we boarded a Cessna Caravan (seats 12) for a flight of a bit over an hour southwest to Campi Ya Kanzi, in the Chyulu Hills. It has been built in partnership with the Maasai community of the 283,000-acre Kuku Group Ranch. (Many lodges where we stayed had some kind of community involvement.) This beautiful place is run by an Italian couple who are raising their three children there. They are helped by their friend Stefano. He is an enthusiastic mountaineer, and we held many lively discussions. He has a hard time believing that his countryman Cesare Maestri faked his ascent of Cerro Torre. As noted, Stefano is Italian. If you wonder what this is about, click here. We also met Samson Parashina, the head guide, and Barbara, a recent Princeton graduate, whose function was uncertain, as she vanished almost immediately.
Our thatch-roofed, canvas-sided sleeping quarters could scarcely be called a tent. Electricity was solar. And the bathroom included a bidet. Although it was safe to walk in the vicinity of the lodge, we were always accompanied to dinner, when it was dark--and it gets dark rather suddenly nearer the Equator--by a Maasai guide. In selecting the two camps where we stayed with our family we had carefully chosen places that would provide activities for the kids (Zach and Brody loved spending time with the Maasai men learning to shoot a bow and arrow (bow accompanied Zach home to Brooklyn), throw a spear and make tooth brushes from bushes. We also knew that we would have enough staff and safari wagons to take everyone on activities on interest, as we knew that our interests--and energy--varied.
It was safe to walk near the lodge.The first afternoon we drove and hiked up a nearby hill with great views over the plains. Next day, passing many giraffe, we hiked five miles to a local village, which I thought impoverished even compared with many others I had seen in Africa and Asia. The small huts had cracked mud walls and no chimneys for the cooking fires within. But there had been progress: electricity had arrived two years ago and--strikingly--half the 900 school kids were girls. Zach and Brody played soccer with the kids; they said it was more like a fist fight than a game. Eric entertained the kids in one of the classrooms with a juggling display.
The lodge had a number of Land Rovers, each with a driver and game spotter. The boys were attentive in age-appropriate fashion. They were granted periodic "monkey time" for play. NOTE: on these drives you do not leave the vehicle unless you wish to be eaten by a lion or trampled by an elephant.
In our second full day some of us drove (here and everywhere else in this account, "drove" means "were driven") north to Tsavo park, famed for its elephants. We saw many curious creatures, including hippos, kudu, hartebeest, Italians, zebra and giraffe. One elephant was right by the road, munching on a small tree. Our driver said he would move forward unless we were scared. We said we were scared, even though it was a relatively small elephant. Five minutes later it shuffled off, ignoring us entirely. The only animals that flee are the vulnerable ones, such as gazelles and zebras. The predators, lions especially, just ignore you. Don't mess with them, however.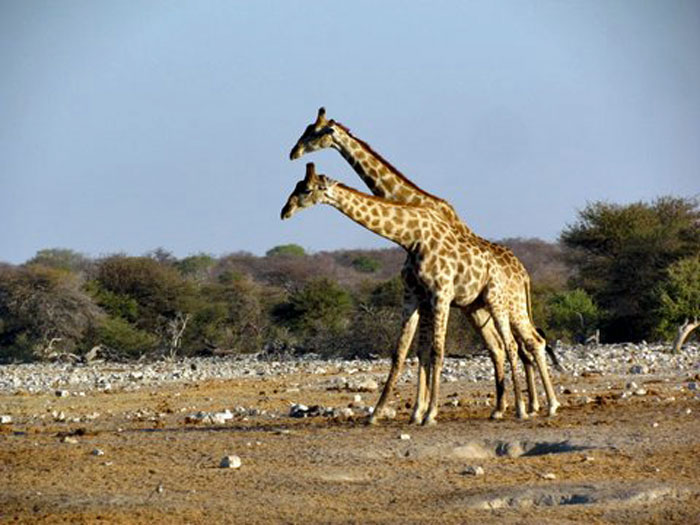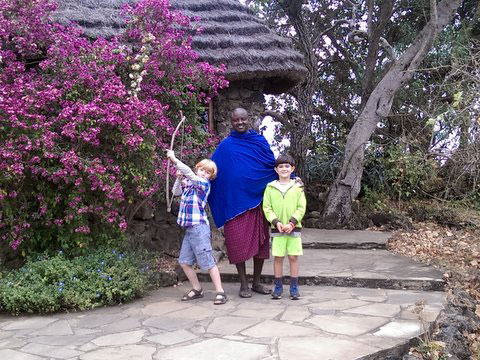 It had taken an hour and a half to drive to Tsavo, but it was a mere ten minutes return in a small Cessna, named The Giraffe and painted accordingly. After topping some hills, we flew at 200 feet. Great views of the plains and animals. Our pilot, Bill, was a veteran of dangerous flights in African war zones. He was a creationist, a status that we did not discuss with him.
For our third and final evening, we were led half a mile to a huge volcanic cave. From deep within came the sounds of a violin. It was Barbara. Perhaps she had spent the previous days rehearsing. The darkness of the cave was mitigated by a line of kerosene lanterns, which allowed us to see a long, completely-set dinner table, as well as a full bar. We could only imagine how it all got there. Before dinner we were joined by a number of Maasai, who performed a musa dance--a celebration of the killing of a lion.
We had been the only guests, but before our third and last night a Spanish man arrived with his 4-year-old daughter, Alejandra. Early the next morning they joined Sarah, Susan and me for an hour flight for a view of Kilimanjaro from the north. Alejandra slept through most of it, but the rest of us had a good look. Warming temperatures have taken a toll--we could see almost no snow, though there may have been more on the commonly-pictured south side. Bill, once more our pilot, made a few slightly creationist comments, which we ignored. From this side Kili is a very big brown lump. Its adjoining peak, Mawenzi, is jagged, but the rock is too rotten for climbing.
It was time to move on--that is, fly on--to the Porini Lion Camp, more than 100 miles away in the Maasi Mara. A dozen or more Toyota Land Cruisers (standard vehicles from now on) were parked by the dirt airstrip, waiting to take arrivals to various lodges. That afternoon two of them took us on the most concentrated game tour of the entire trip: hippos, eagles, lions, cheetah, elephants, buffaloes, zebra, wildebeest, giraffes, warthogs, impala, gazelles and many others.
Porini was busier than Campi ya Kanzi and a little less luxurious, though very comfortable. Staff and management were all black Kenyan, especially Maasai. Food was fine again, and could be accompanied by the local beer, Tusker, which came in half-liter bottles. As promised, many lions abounded, including one which roared at us after (our) dinner. It was probably a quarter mile away, but sounded a whole lot closer.
Our second day was devoted mainly to hippos. We had breakfast by a river where dozens of them were sporting. These unlovely creatures are very large--males up to four tons--and dangerous if you annoy them. They spend days in the muddy waters and nights grazing on land. (We saw a number of them that night as we drove.) The daytime hippos were a few hundred yards from some enormous alligators. The two species ignored each other, and us.
The following day was Eric's 48th birthday, and the animals were celebrating. Our hosts provided champagne at dinner.
The Kenya part of our trip was almost over. Ellen and family were leaving for London. The rest of flew back to Nairobi for another night at Macushla Lodge. The following morning we were up at 4:30 on our way to the international airport. Zach and parents were going to Zanzibar. Susan's and my destination was Windhoek (pronounced with a v-sound), capital of Namibia. The trip was via Johannesburg airport, with which we had a growing acquaintance.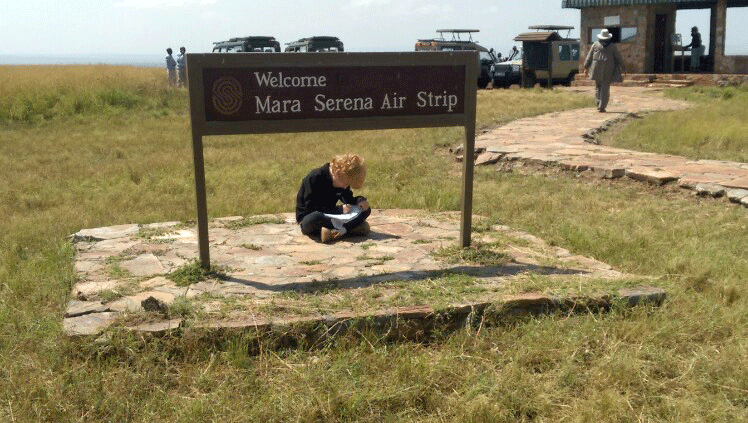 We landed at Windhoek airport, 24 miles from town. There we met our guide, Frank Austin, a 3rd-generation white Namibian of German and mainly English origin. He turned out to be an excellent companion, knowledgeable, experienced, extremely competent. And quick with a good joke. This was a good thing, because he was to be with us much of the time during our 17-day visit. He was also a movie fan, despite the sparseness of theaters in the country, and very well read. He happily received the books that we finished reading on the trip.
Namibia is one of the newest countries in the world. It became independent only in 1990. It was formerly South West Africa, A German colony. After the First World War it became a mandate of South Africa. Thus it later became subject to apartheid. Today race relations appear relaxed, but some tension remains both between white and black, and among the indigenous groups. As Frank said with pride, every election and change of president has been held with no violence at all. Although the country is enormous, it is the second most sparsely populated in the world (after Mongolia). There are hardly two million people. Health care is good, but AIDS has been a major problem as is the widely spread rural population.
Windhoek has a population of perhaps half a million--a quarter of the entire country. Street names reveal cultural and political heritage: Beethoven, Mozart, Mandela, Mugabe, Castro. Also Bahnhofstrasse.
One thing about a Namibia tour: you will spend a lot of time in your vehicle. We clocked over 2000 miles, all driven by Frank in his Land Cruiser. Some people rent and drive themselves; one can only hope they know what they are doing. The main roads are easy, but the others are rocky and challenging. A 4-wheel drive is essential. Frank's Cruiser had two full sets of gears, two spare tires, two gas tanks, two batteries and a refrigerator. The springs were quite effective, but some of those 2000 miles were very bumpy.
Another thing about the country: it is very dry. There is a rainy season which floods the rivers, but the water disappears rapidly. The elephants have adapted to the desert; they are smaller and travel in smaller family groups to have easier access to water and foliage.
On August 6 we headed north from Windhoek. First stop was a rather tawdry market, where I benefited from bargaining techniques learned in Nigeria 50 years ago. You should start by offering half the quoted price or less, if you have the nerve. Early afternoon brought us to Okonjima, where we had been upgraded from the Plains Camp to the Bush Camp. Frank cautioned us that the luxury level would decline henceforth, though we never had grounds for complaint. Okonjima is home to the AfriCat Foundation, "which is committed to researching and rehabilitating Namibia's threatened wild cat population." Accompanied by a German dentist and a couple from Belgium, we were driven around to look for cheetahs and leopards. They are elusive, but many of them had been collared with transponders. Our guide, Daniel, lofted something like a dowsing rod that made noises when a big cat was in the vicinity. So we saw a 160-pound leopard, among other creatures.
Next morning we saw the same leopard, as well as Daisy, an 8-year-old cheetah and her young son, Juba. He was the only survivor of Daisy's four cubs. One had died of an illness, one was killed by a leopard and the third by another cheetah. Life is tough in the wild. Note: all cheetahs in the area had been introduced from elsewhere, where they had been threatened, especially by cattle herders protecting their herds. Because this was early morning, when predators sleep, we were able to walk (quietly) around a cheetah. Our guide carried a thick wooden stick, just in case. We did not see a firearm anywhere on the trip, even when camping out. Frank, a former policeman, said it was very hard to acquire such a weapon in Namibia.
A drive north took us to the Mushara Bush Camp, where we spent two nights. It was very comfortable with good food, but you already know that. We were now only five miles from the eastern entrance to the vast Ethosha National Park, which we visited the next day. You need a passport to get in, and you must stamp your shoes on a disinfectant pad, to prevent rinderpest from joining you. We saw a bunch of animals, including a rhino.
We next drove west through and out of the park. The farther we went, the more desert-like it became. Animals became harder to sight. We stayed at the Etosha Safari Lodge for a night. Dinner included "game meat." I rather regret to say that I developed a taste for oryx.
Next night: The Film House. The most unique place we have ever stayed. Okay, "most unique" is bad usage, but the House is really amazing. It was built in 2004 for a French move, La Piste, which neither Frank nor we have seen. Netflix has never heard of it. Sixty workers spent six months in the construction. It is built flush against a bunch of giant egg-shaped granite globs that jut out of the desert. After the film was done, the house was modified and turned into a guest house. If you want to stay there, reserve soon. It is usually fully booked. It has a small, chilly swimming pool, solar-powered electric and can sleep about 10. And of course a kitchen that provides good food.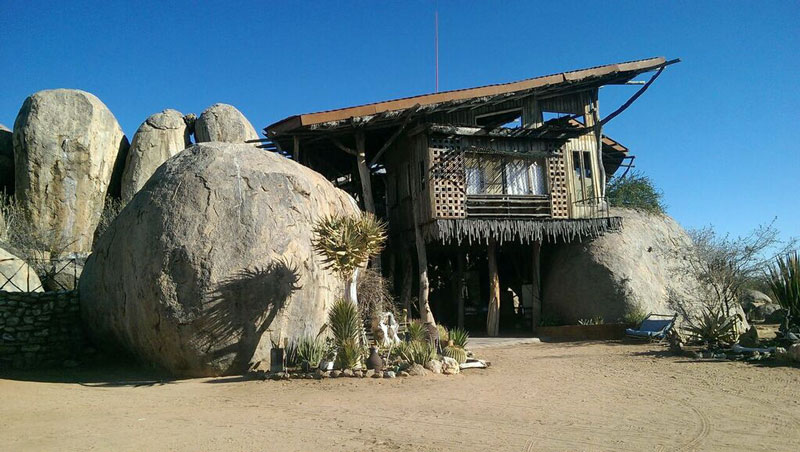 That afternoon we visited a nearby Himba village that had relocated to work on a local farm (farms always mean cattle as no fruit or vegetable grow in Namibia). The Himba are a small group that have not adopted modern life, although they dance for visitors and sell them trinkets. They are pastoralists, mainly located farther north in the country. The women go top-free, to use current parlance, with varying esthetic consequences. The Himba are said to regard sex quite functionally. We heard a story about a young Himba woman who complained to a tourist couple that her man was no good. She asked the tourist male for his services. She could not understand his hesitation. "It will take only ten minutes," she said. "The wife can watch." She lifted her skirt to demonstrate her seriousness. The man seemed to show some interest, so the wife hustled him off. Himba women cover themselves in ocher. When they do visit a city store in their top-free state, we were told, someone follows with a rag to wipe the ocher from the objects that they have touched.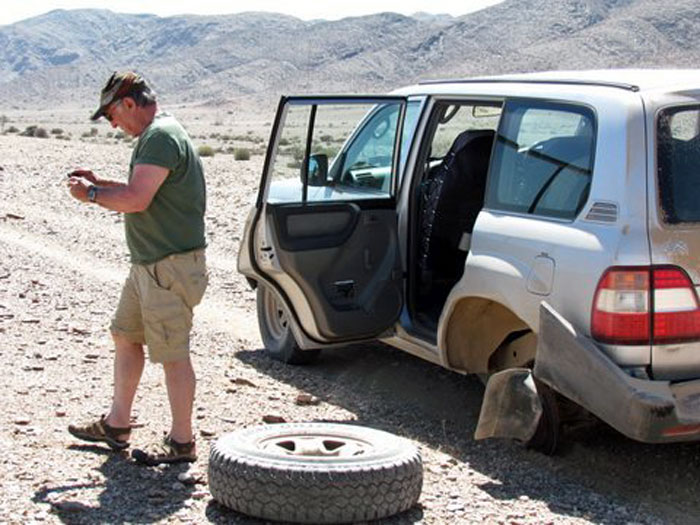 August 11 was notable for clouds--the first we had seen since leaving Windhoek five days earlier. It was also the start of our 4-day "camping safari." Goodbye to luxury--but we still weren't roughing it. We were met by another Land Cruiser, with Falco and his associate Gerry. These two took care of everything: setting up tents, cooking, heating water for the occasional hot shower. They were extremely good at their work. The first night we had oryx pie. Our tent had two cots, with room for a small aisle between. Our first two campsites were isolated and nestled among the few trees in this arid country. Frank drove us around a dry river bed to see elephants. Also rhino, zebra, jackals, hyenas, pied crows, springbok, baboons, the riverbed was lined with trees, but they were unsuitable for camping, because the elephants owned them. We were in the Palmweg Reserve, where animals, including rhino and elephants, have adapted to harsh desert conditions. It was only at the last camp site that we were able to take a stroll; otherwise we were cautioned to stay in sight of the tents as, we could assume, there might be predators nearby. Going to the latrine at night was a treat! In the morning we examined the animal scat with Frank--elephants had walked nearby, hyenas had walked through the camp.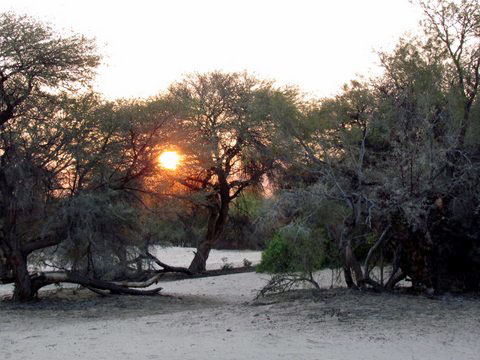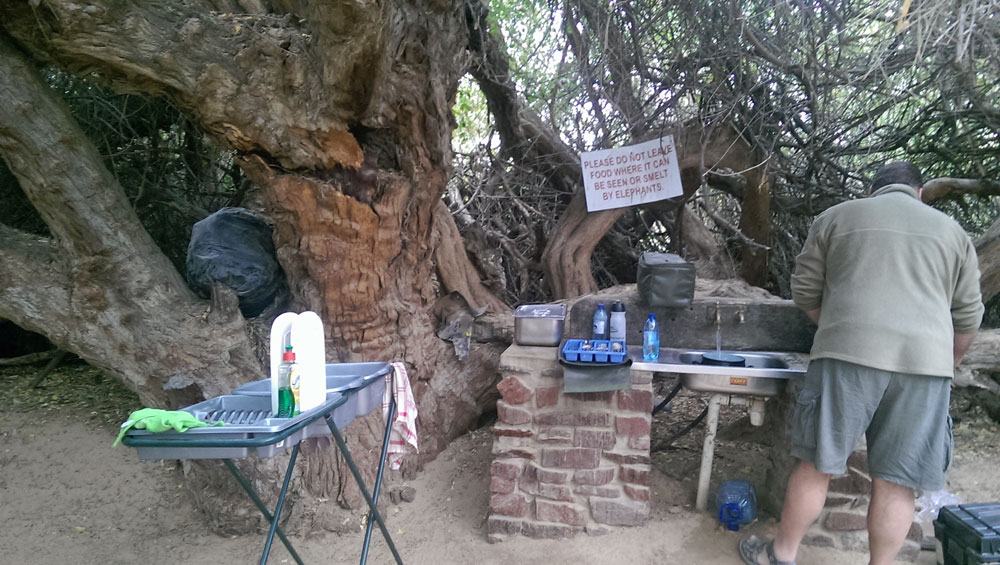 Our last campsite was the only public one. It had flush toilets and showers, as well as tourists (many Italians). Signs cautioned against leaving any food unprotected, lest it attract elephants.
It was during this time that we had our first automobile episode. A flat tire (unrepairable). Namibia thus joined Nepal, Lesotho and Ecuador as countries where we had had this problem. Frank quickly put on one of his spares. But two days later the car stopped with an awful clunk. The new tire spun off into the desert, attached to its wheel. "Oy Vey," we exclaimed. Frank, surprised, had thought this was an expression used only in movies. AAA was not available, and no other vehicle passed by. At least the ground was flat (for miles). The axle was rather deeply embedded. We gathered flat rocks so that Frank could elevate the car in a complicated way. While he labored, Susan and I walked back in search of the tire lugs. To our amazement, we found four of the five.
From the non-hardships of camping to the lovely Grootberg Lodge. It is at the top of a hill, with enormous views over the Klip River Valley. The last quarter-mile of approach is formidable. For the only time, Frank had to use the lower set of gears. Very bumpy, but worth it. Next day Frank drove us back down the bumps to Twyfelfontein, to see rock engravings. They were lovely and extensive, but entailed two hours' driving each way, Grootberg and back. Susan was hoping for a cappuccino on the ride back; this was clearly not on offer as we saw only isolated cattle farms and a few tire repair shops.
It was time to head back south, west and then south along the invitingly-named Skeleton Coast. The reference is to ships and animals. We entered this desolate area from the north and exited at the south. It's about 90 miles between. You register going in. If you haven't checked out in good time, the authorities look for you, as no one else will. There are few human beings around, but there is an enormous seal colony, which reminded us of South Africa.
By mid-afternoon we were in Swakopmund, the country's much smaller second city. The name means "mouth of the river of dirt" but it is a clean, modern place. Some sections retain German architecture, and descendants of Germans. It is something of a tourist town, with many good restaurants. We ate at the Tug, one of the best. It has a two-week wait for reservations. It's raised right above the ocean, with a great view of the waves. We also saw where Angelina Jolie bought her engagement ring.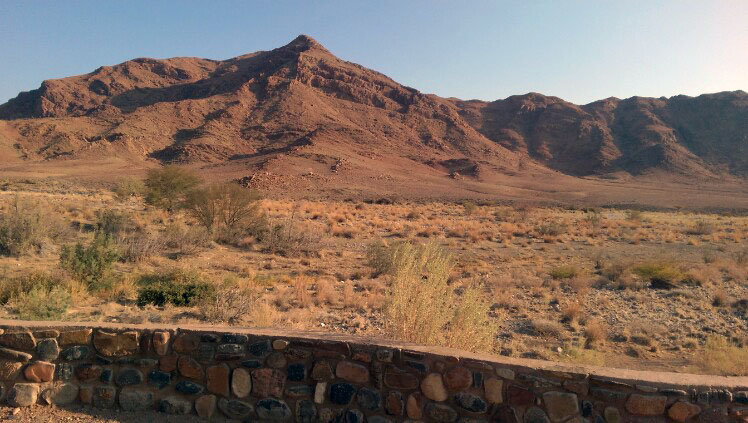 Frank next morning drove us 45 minutes south to Walvis Bay, named for whales. It is a big and growing port. The roadside between it and Swapo is lined with new houses. Along with about 40 others, we embarked on a catamaran with two 150- h.p. outboards and headed out to the Atlantic. The first objective was to induce a seal to jump aboard and cavort about, but we couldn't find one that was hungry enough. We did see dolphins, as well as a variety of seabirds, including large pink-and-white pelicans, to whom we threw fish. There were many fishing boats in sight, as well as a giant cruise ship and an oil rig. We were treated to champagne and oysters on the way back.
One more stop, perhaps Namibia's most famous: the dunes. These are not your ordinary ocean-built dunes in Long Island but wind-swept monsters, some rising more than 500 feet--the highest in the world. They have beautiful curved shapes, as though designed by a master. The most popular is Dune 45, which has its own parking lot. We spent an hour climbing up and down. A hundred or so others kept us company. Their footsteps made the going easier, but it was still sand. To get there, we spent two nights at the Hoodia Desert Lodge. Frank thinks the best of the many places he knows in the area. The owners, Thomas and Henreza Becker, take meticulous care of the dining and accommodation. From the door of our cottage we could see a mountain that looked exactly like Everest from the north, except that it was a lot lower and had no snow.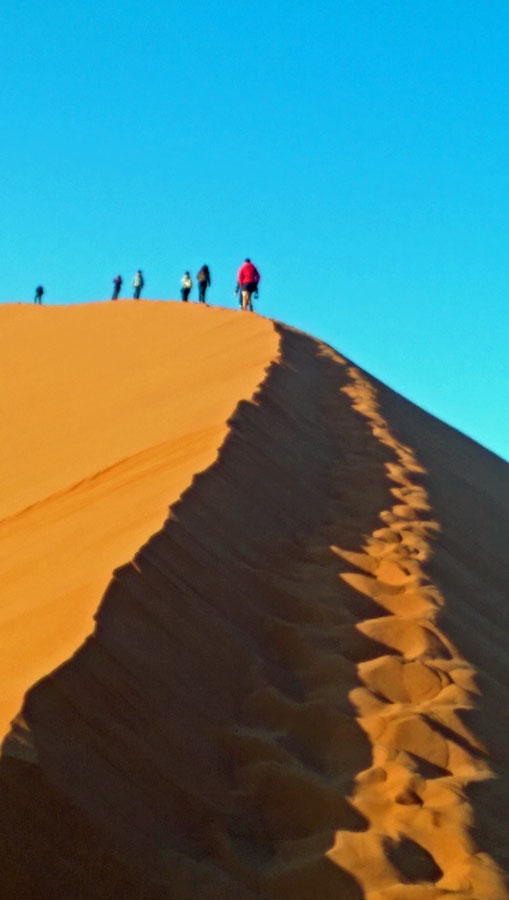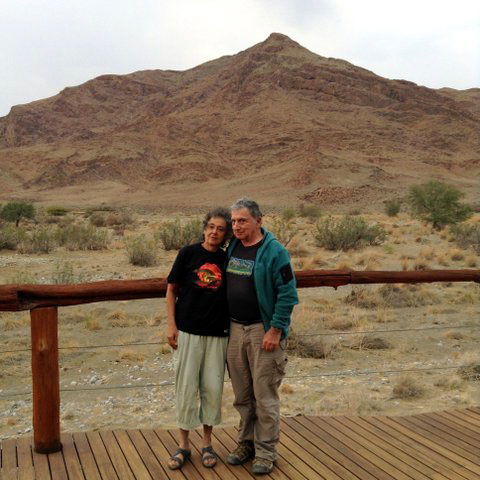 We were spared the long drive back to Windhoek. We took a small plane instead. It was hard to say goodbye to Frank, who had guided and amused us so well. As I write he is off guiding again, for a month or more.
You would not expect us to know anyone in Windhoek, and we did not. But Susan's weaving and political networks again came into play.
1) We had lunch with Ingrid de Beer, born in Austria, raised in South Africa, now lives in Namibia. She is the managing director of the PharmAccess Foundation, which works to provide quality health care in sub-Saharan Africa.. While teaching at Boston University for a semester she had lived with a friend of Susan's.
2) Vicki Erenstein Ya Toivo (a friend of Dan Millstone's from NY Lawyers Guild) visited us for a pre-dinner drink. It was good of her to come, as she was preparing to celebrate next day's 91st birthday of her husband. Andimba Toivo Ya Toivo is a great hero of Namibia independence struggle. Like Nelson Mandela, he was imprisoned in South Africa's dreadful Robben Island camp. He spent 16 years there, one and a half of them in solitary confinement. The couple have 21-year-old twin daughters.
Travel advice:
1) If entering or coming from any country that has endemic yellow fever, be sure to have your yellow health card with valid immunization.
2) If traveling with a child (not merely an infant), carry her or his original birth certificate. Otherwise you may be stopped for child trafficking.
Susan's advice:
Add a day on either end of the trip to see more of the cities. She regrets missing some "great" weaving studios in Nairobi and not spending one more day in Windhoek.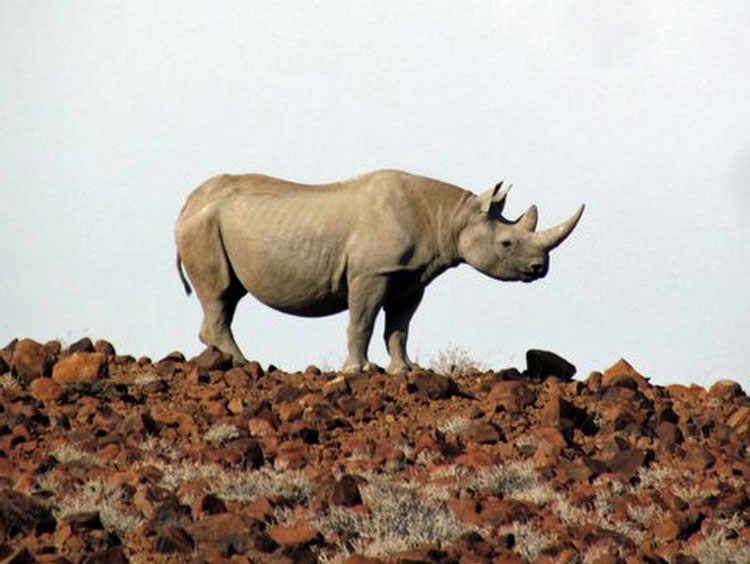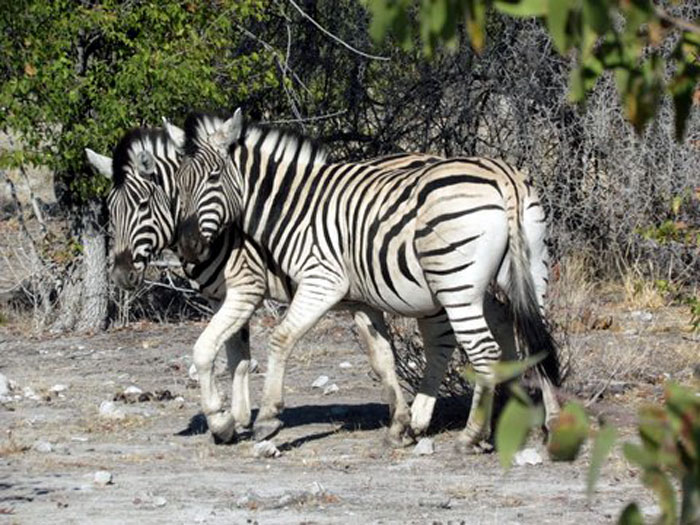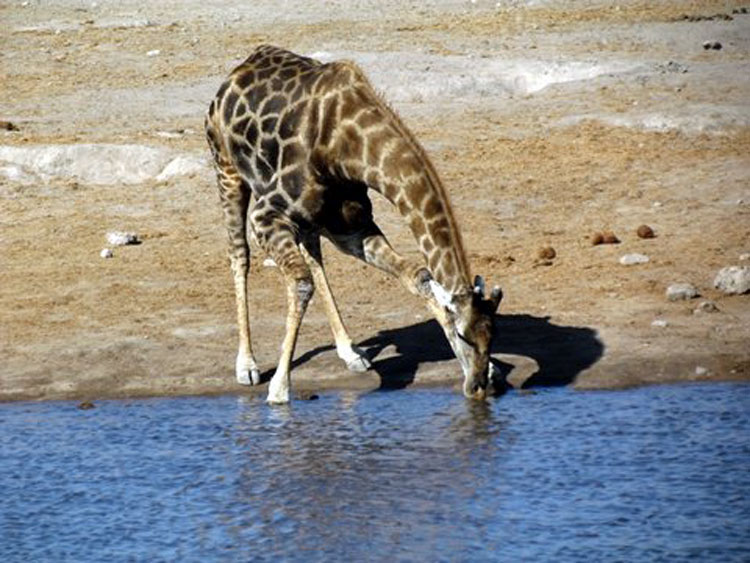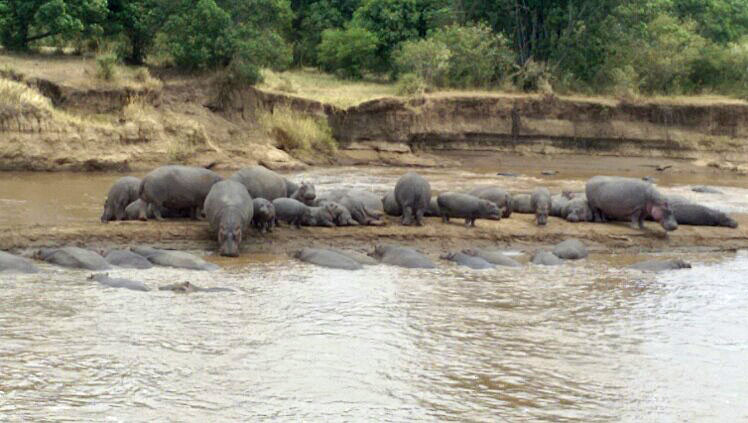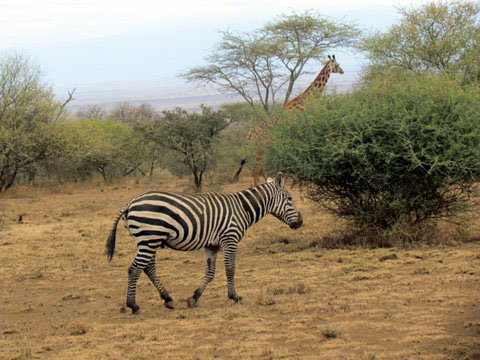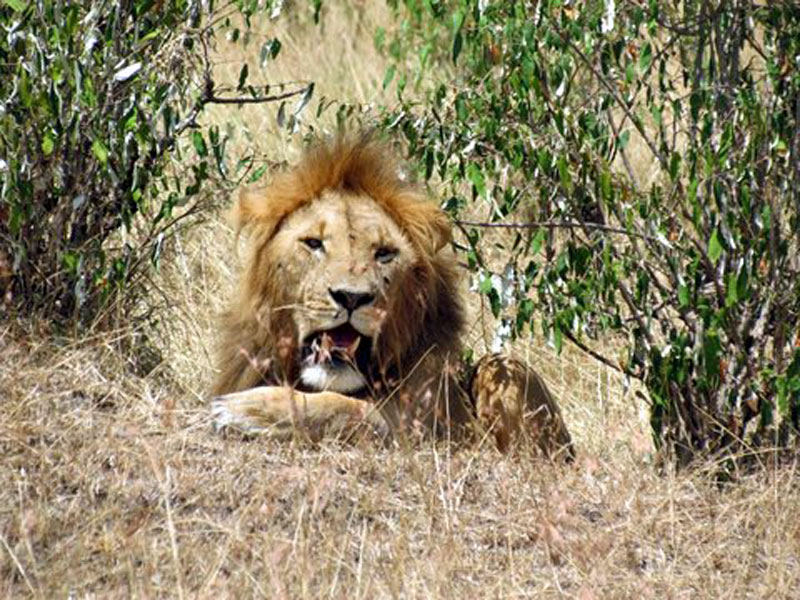 Return to Climbing page.
Return to travel page.
Return to home page.