The Arctic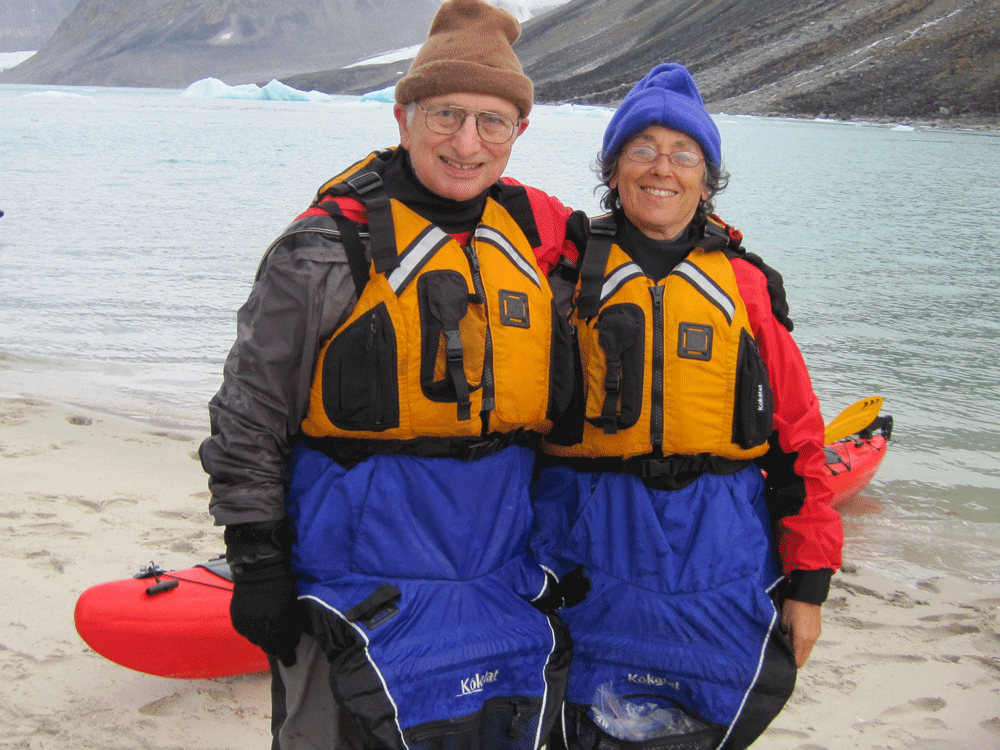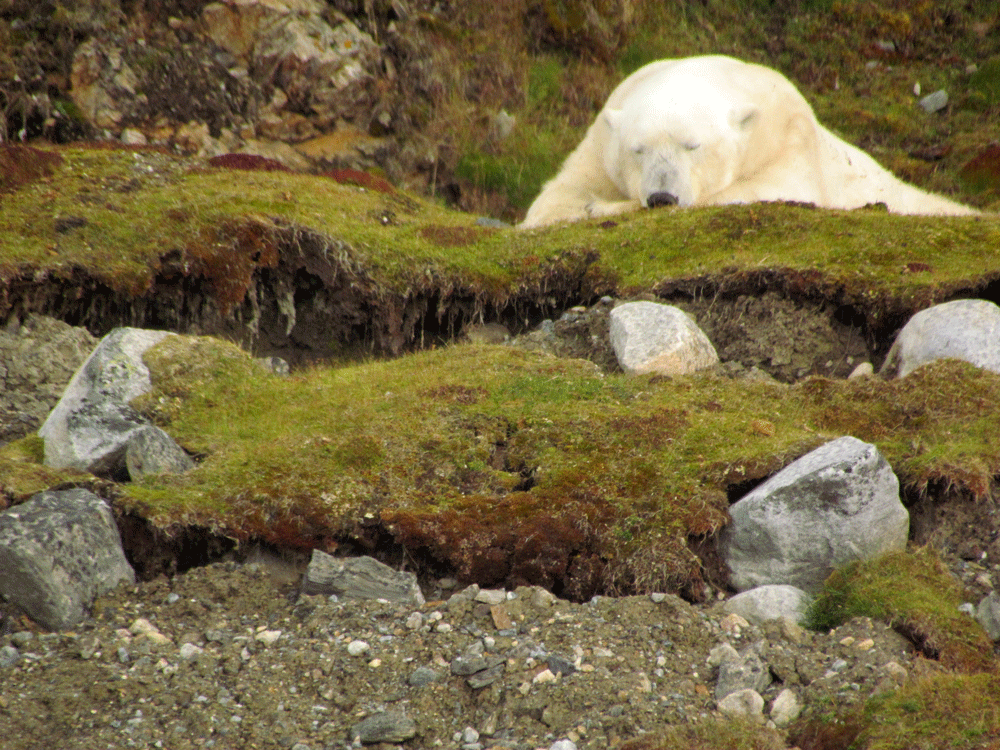 Susan had always wanted to go to Spitsbergen. She has no idea why.
Spitsbergen (Svalbard) is an archipelago about the size of Ireland. It is some 350 miles north of Norway (which holds sovereignty), well above the Arctic Circle. The human population is small--some 3000. Mining (much diminished), whaling (controversial) and tourism are its main sources of income. It is not outrageously cold, but the winter night is more than three months long. Don't look for trees, or even bushes.
On September 3, the day after we arrived at the one town (Longyearbyen), we embarked on a day hike. Ten clients, two guides. Countries represented included Denmark, Germany, Switzerland and Netherlands. One of the guides was from London and had attended university in Scotland. His mother was from France, his father from Bangladesh. He and the other guide carried rifles. Such protection is a necessity. Threatened species though they may be, polar bears can make you the prey. It is not advisable to have a 700-pound bear rushing you at 40 miles an hour. Svalbard is a major polar bear hang-out.
We started out across a glacial valley, then fairly steeply up a long jumble of rocks to a ridge. Clouds obscured our position, but at least we were on flat terrain. This had been advertised as a moderate trip. Moderate. Instead of wandering around the plateau, we turned left up a narrow ridge. It was mostly trail, but a little scrambling past rock outcrops. The clouds broke occasionally to reveal yet more ridge. A glacier appeared close on our right. It had many visible crevasses and doubtless a number of hidden ones. We stayed clear. About four hours in, we came to a summit of sorts: a metal shack that was supposedly a Red Cross station. It was firmly closed, but the exterior wall provided some shelter from the rising wind. We had climbed about 3000 feet, and the temperature had dropped close to freezing. We were given bags of dried meat and vegetable. You heat them up with boiling water. It was welcomingly warm but quite repulsive, I thought.
On the way down, the clouds parted long enough to reveal how precipitous were the flanks of the ridge. Just as well we had not seen this earlier. Near the end of the long descent, on a variant route, we made our way along a plateau of uncomfortable rounded stones. Near the end, only about a mile from town, we found a large cairn with a photograph of a young woman. This was Nina Varden. Not so long ago Nina had visited this spot with a companion, but without a rifle. They had the misfortune to encounter a young male polar bear. The bear was hungry. The other young woman escaped by jumping off a cliff, when she was able to summon help, it was far too late for Nina. By the time we had passed this grisly landmark, it was 6:00 p.m., nine hours after our start. We hurried back to Kroa, the restaurant attached to our hotel, just in time for a fat pizza topped by cheese, pepper, pineapple and corn.
Unless you are in the mining or tourist business, there isn't a whole lot to do in Svalbard. There is a small art gallery, as well as a supermarket. The entire archipelago goes dark early November; it is more than three months before the sun inches back. We saw a winter photograph: street lights illuminating the snow at noon. (The new lights are timed to emulate the elusive sun.) There was still a good deal of light when we were there, but each day had 20 minutes less than the previous.
Sunday afternoon, two days after our arrival, we boarded the MS Expedition. This is not one of those town-sized cruise ships. It holds 128 passengers and 56 staff and crew. It was built in 1972 in Denmark, designed as a ferry. Starting in 2008, it was refurbished in Finland for its current use. If you're curious: weight, 6334 tons; draft, 4.71 meters; length, 105 meters, breadth, 18.6 meters. It is a "mid-range" cruise ship, not a luxury one. In open water, it can make about 14 knots. Our home for the next nearly two weeks was a comfortable twin-bedded cabin with window, table, desk, chairs. Life jackets were in a sturdy metal box beneath the beds. Keys were not provided. We placed our wallets in a deposit box after linking our Visa card to a ship card on which we could charge drinks, tips etc.
Before supper we had our safety drill. Not an idle exercise: in November 2007 a ship owned by the same company, G.A.P. Adventures, had gone down after striking a berg in the Antarctic. (There were no injuries.) Our lifeboats were big covered orange plasticky vessels. They looked almost as comfortable as the ship, but we were hoping not to use them. After supper we had our (or at least my) most trying moment: fitting up for kayaking. This involved fighting and twisting our way into wet suits that made us look like alien invaders. This was topped by a heavy rubberized skirt and a life preserver. We were not done until 10:30; I hoped the actual kayaking would be easier.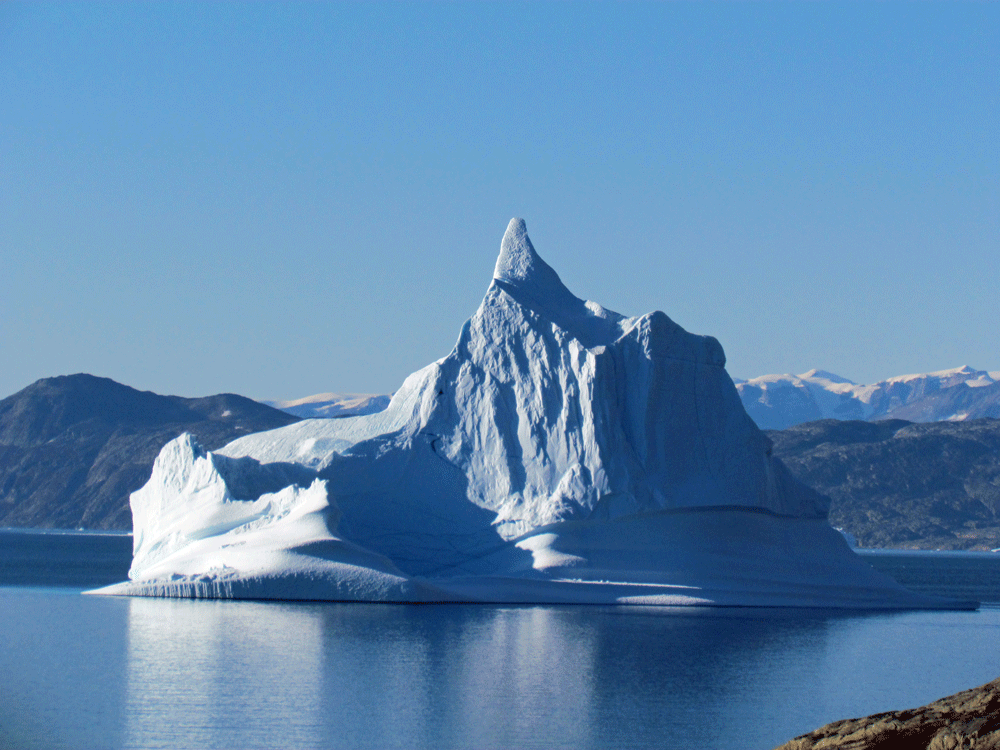 Some months earlier we had hastened to sign up for the kayaking, an option that cost almost $400 each. Participants were limited to ten. We were astonished to find that only four others had signed up. Perhaps this was on account of the alarming "liability waiver form." It listed 11 risks that we had to "understand and willingly agree," including
--Risk of the kayak capsizing (in cold/freezing waters);
--Being in the kayak, undertaking a very physical activity, for long durations of time and over several miles;
--Participating in a physical activity in one of the toughest environments in a remote part of the world;
--Threats or contact with wildlife, such as but not limited to, whales, sea lions, leopard seals, polar bears and seals.
Were this insufficient, Ian, our young kayak master--and incidentally a philosophy graduate of Bard College--reminded us that if we pulled out before the first excursion, we could get our money back. We responded that we had practiced in Brooklyn, in the East River, and were ready for anything.
Our first full day was spent circling around Svalbard. The main objective was to see a polar bear, albeit from a safe distance. This was pretty important for the cruise company, which had daringly granted what it horribly called a "Bear-antee": no polar bear = full credit toward another expedition. By 10:00 that morning we had made our first (and only) sighting. The very large animal was lying on its stomach on a rocky slope. It showed no interest in us, but it did occasionally move its head a little. We also saw many birds and other Arctic inhabitants. The archipelago is lovely in its bleak, austere way. Many glaciers and brown and green vegetation.
This was the day we began our shore excursions. The ship never docked. We boarded Zodiacs, sturdy rubbery rafts that held ten of us plus the staff driver. The 50-mph Yamaha outboards zipped them right along, deflecting the occasional floating ice. We also inaugurated the bright red kayaks. Two of us in each, with the stern paddler managing the foot rudders. The water was fairly calm, but we were glad that the excursion lasted no more than half an hour. It was possible--though to my mind inadvisable--to swim from the beach. A number of people did, even jumping off small icebergs. Susan managed a modest wade.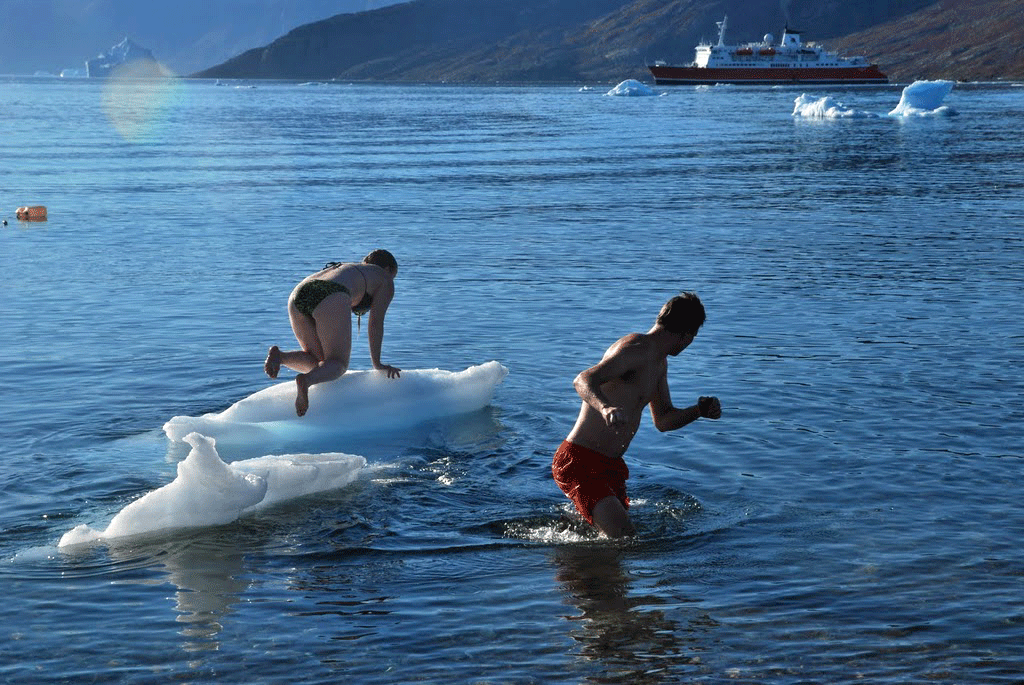 After leaving Svalbard, we headed up to 80º north, to say that we had been there. Then we began several days of cruising southwest across the Greenland Sea. Because there was no land within reach of the Zodiacs, the management kept us amused with talks and slide shows from accompanying geologists, botanists, etc. We heard more about climate change, everywhere evident at these latitudes, and about the peculiar questions passengers had asked. (e.g., "Does the crew sleep on board?" "When is the midnight sun?" "Can you call us 15 minutes before the whales arrive?" Silliest of all: "May I buy you a drink?") We were now on open ocean. The skies were gray, the waves sometimes carried ice. One night the ship rolled so badly that we could hardly sleep.
We grew accustomed to shipboard routine. Breakfast and lunch were buffets; dinner a four-course meal. Food was quite good and varied, and of course abundant. Seating was random, at 6-seat tables. The chairs were chained down so they did not fly about in a storm. There were several lounges, plus a gym and sauna that Susan used and I did not. Also a library with an enormous collect of Lonely Planets. Two computers that had their own e-mail ($35 for the voyage) but no internet. Just as well, perhaps. Printed news bulletins from the U.K. (Guardian) appeared daily in the library. I told Susan about a depressing New York City election result. She said, "Don't tell me anything else."
The captain was Ukrainian, his first officer Polish. The social director was a woman from Brazil. Most of the crew came from the Philippines. The passengers were of about 30 nationalities, mostly from Canada, the U.S. and western Europe. By far the largest group, however was from Hong Kong: 36, mostly high school juniors and seniors. They had won a rigorous contest for this free trip, on which they devolved into teams of two or three for scientific projects. They were a lively and charming bunch. One of them told us that her name meant "pure," which was how she intended to remain until marriage. Some of the others appeared to have different plans.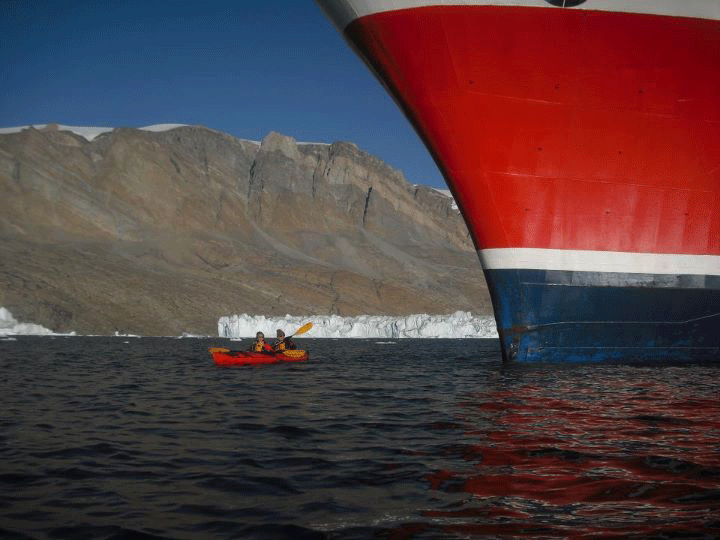 After a couple of days we reached our next destination, the east coast of Greenland. The first fjord that we meant to visit was blocked by ice, so we headed south for the second. It was also accessible. Finally (Sept. 9) we entered the third, Scoresby Sund. This we explored for the next five days. There was plenty to see--this is the biggest fjord in the world. And the weather had turned gorgeous: cloudless, with temperatures rising into the fifties (my guess). The custom was an excursion every morning and every afternoon, a few hours each. We were ferried by Zodiac to rocky beaches and archaeological sites, over 1000 years old. We took a number of short hikes in the rubber boots provided for us for wet landings from the Zodiac. We saw plenty of wildlife, in and out of the water. No more polar bears, but some musk ox, very big, shaggy and shy. Once we walked for an hour toward the snout of a glacier, several miles off. Fifty years ago, this glacier reached the sea in a calving wall over forty feet high.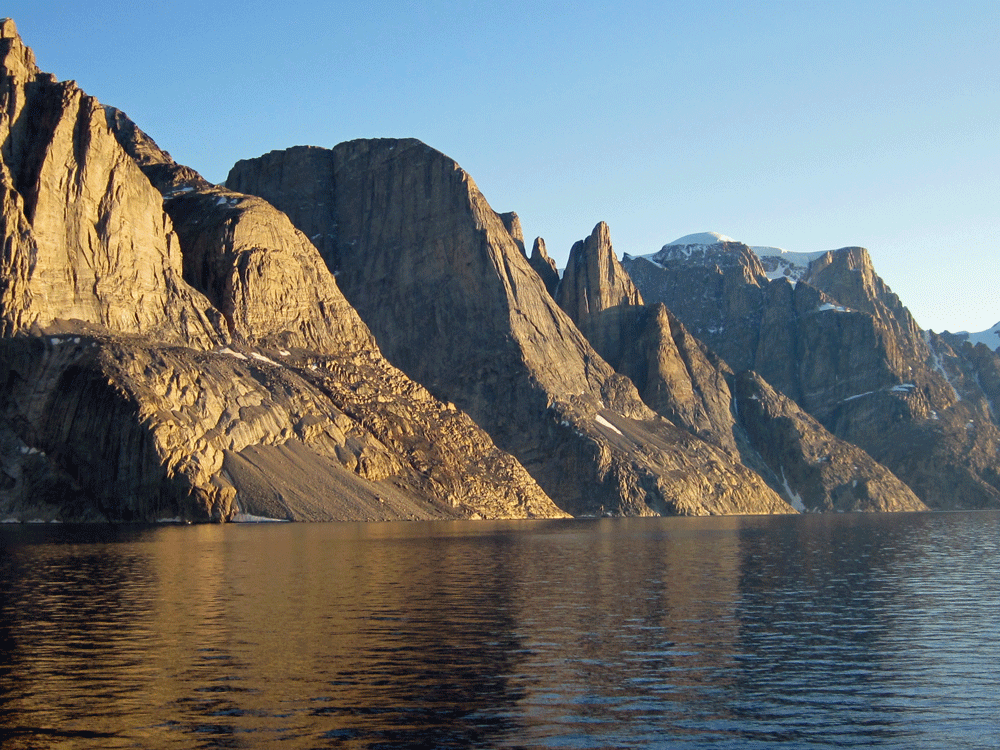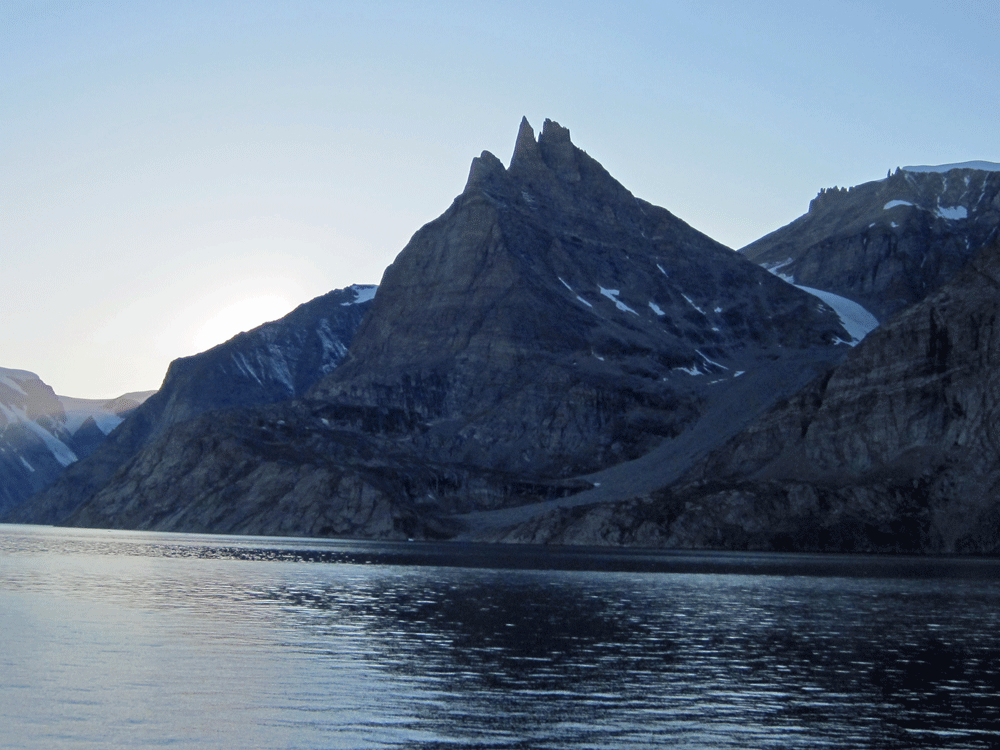 Sometimes while the others boarded the Zodiacs, we six squeezed into our wet suits and set out in the kayaks. Susan and I were the oldest and therefore slowest, but not outrageously so. The water, though icy, was calm. We were able to approach the shoreline and also many giant icebergs. Like polar bears, these should be kept at a reasonable distance. They can capsize and send out great waves. Their shapes were extraordinary. One was a half mile long and resembled a Moorish palace, with many openings. We could have paddled way into it, but wisely did not.
One of our stops was at Scoresby's only real habitation, Ittoqqortoormitt. It is farther south than Svalbard and has some sunshine until November 23. (It resumes January 17.) Here our passenger Walter West presented a plaque of gratitude. Walter, now 87 and very hale, was the only survivor of eleven U.S. soldiers who had manned a weather station here for a year beginning August 1945. They had virtually no contact with any of the world to their south, but the villagers were very kind and friendly. Since that time the number of year-round residents has grown to about 500. Almost all are Inuit, but we were greeted by Jennifer, a young Canadian who found the place so welcoming that she had decided to live there. She ran a small bed & breakfast, where she hosted the visiting dentist and the ophthalmologist, who come every few years. She had moved in with one of the few other non-Inuit, a Brit who made his living mushing dogs. Winters are not only dark but ferociously windy. Many glass windows have holes from wind-borne rocks.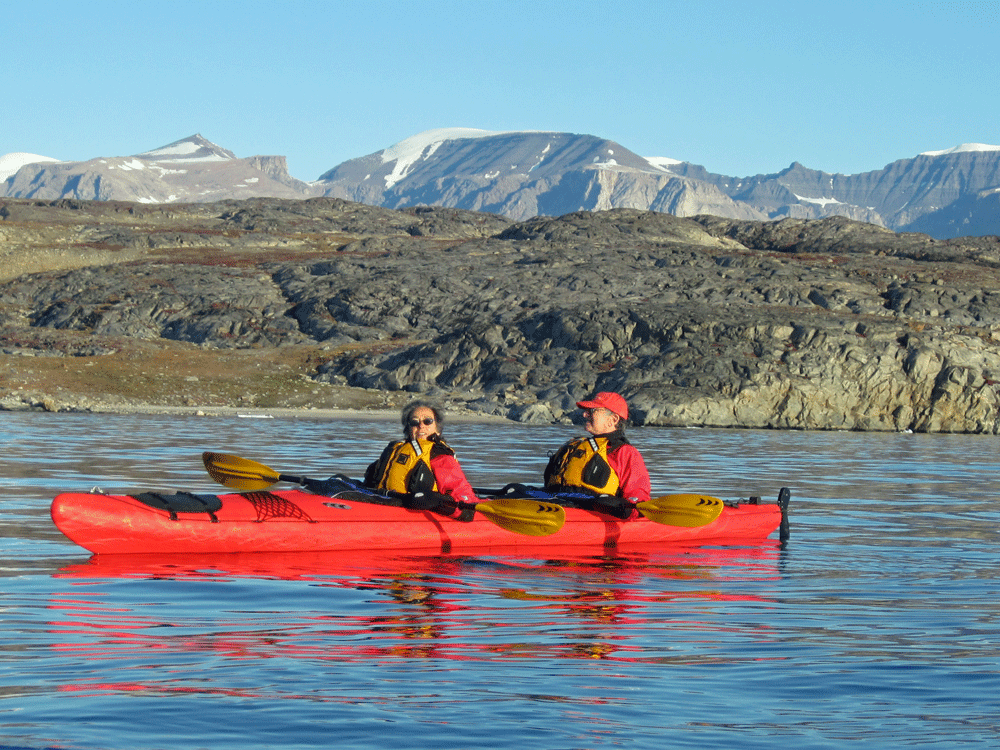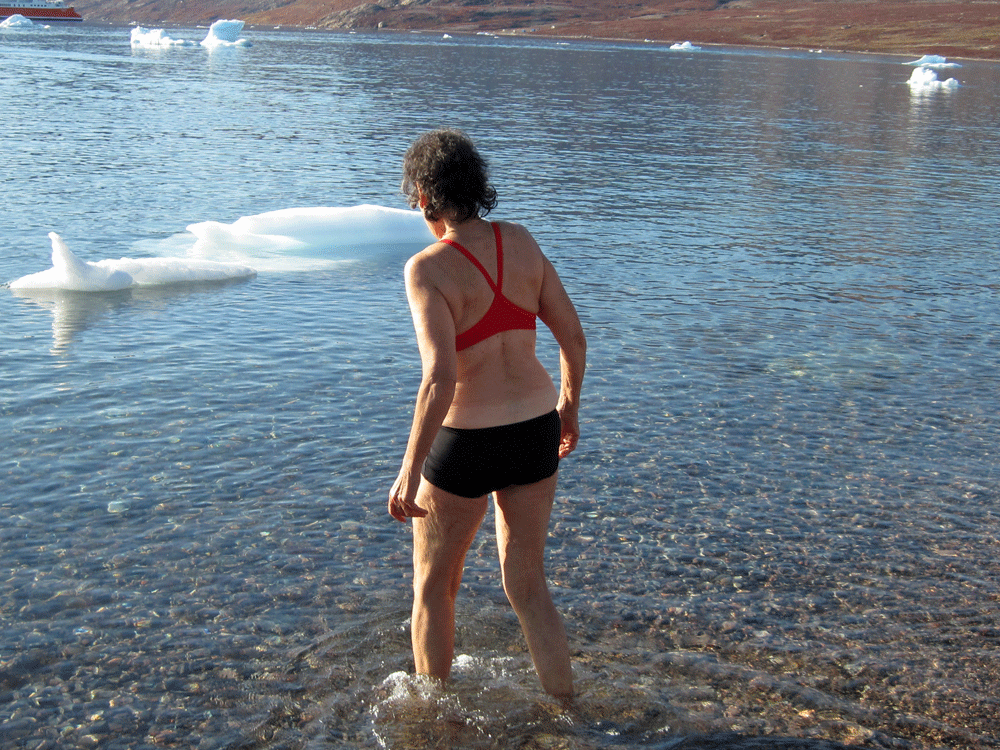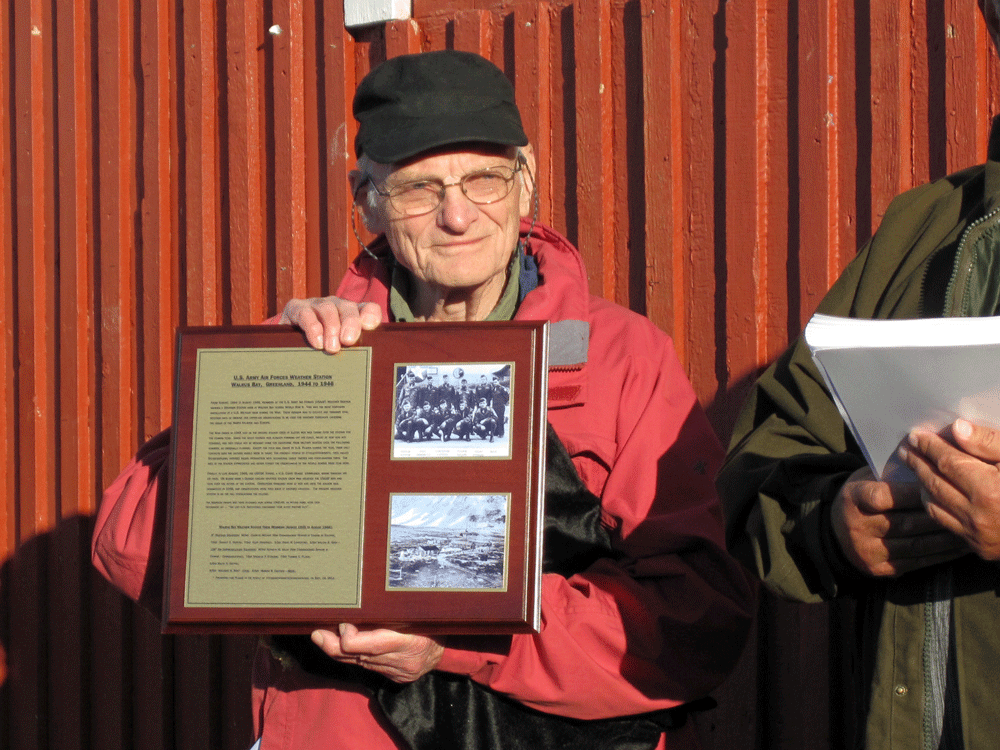 After five glorious days in Scoresby Sund, the ship headed southeast across the Denmark Strait for its terminus in Iceland. By the time it reached there, it had gone almost 2500 nautical miles.
The cruise was over, but our trip was not. We had five days in Iceland. The first we spent in Reykjavik, the northernmost capital in the world, and surely one of the smallest--population about 130,000. But this is more than one-third the entire country. Our hotel, Odinsve, was very pleasant, and close to the center of town (as is almost everything else). We walked by the harbor, took in an art gallery and the Hallgrimskirkja. This is an enormous church that, as a guidebook says, "is disguised as a space ship." It is nearly 300 feet high, and sits atop a hill. It's a great landmark. There is a viewing platform, from which you can a lot of the world.
We rented a Hyundai. It had 4 doors, but was nevertheless tiny. We drove it east along the "Golden Circle." This somewhat touristy area is close enough to the city for a day trip. It features geysers, hot springs and the marvelous waterfall (Gullfuss). It was a spectacular day, despite intermittent chilly rain. We stopped in Thringvellir, which has two distinctions:
1) It is the site of the Althing, which was meant to settle legal disputes. It first met in 930 A.D., and plays a major role in a number of Icelandic sagas;
2) It is where the North American and Eurasian continental plates part company. The result is a dramatic rift, with steep rocks on both sides.
Driving is easy in Iceland. Even in Reykjavik traffic is light; outside you can go miles without seeing another vehicle. We didn't have time for the ring road tour of the entire island. We chose instead to spend two nights on the Snaefellnes Peninsula, a few hours' drive northwest. The treeless vistas are spectacular. Like so much of the country, the peninsula has a volcano, Snaefelljokull. It is close to 5000 feet high, and glaciated. It was made famous by Jules Verne's Journey to the Centre of the Earth. Our views were fragmentary, because of cloud cover. We stayed the first night in Stykkisholmur, on the north coast of the peninsula. It's a small place, but has an excellent fish restaurant and a volcano museum. Greta, our bed & breakfast hostess, was concluding her summer season and preparing to fly to Europe the next day. She told us that, despite the cold and darkness, many visitors come in winter for snowy activities.
After spending much time with the "hearty breakfast" that we had ordered from Greta, we took the Hyundai west around the peninsula. There are not many gas stations along the way--don't run out. We hiked to some giant rock formations near the coast before stopping for the night at the Lýsuhóll guesthouse. It has a big, rather barren dining room, but no one else was there that night. Susan had hoped for a horseback ride, but the horses were otherwise engaged. We did, however, manage some immersion in the outdoor hot pool at the (small) local school. (Susan visited five hot pools in as many days. She loves Iceland.)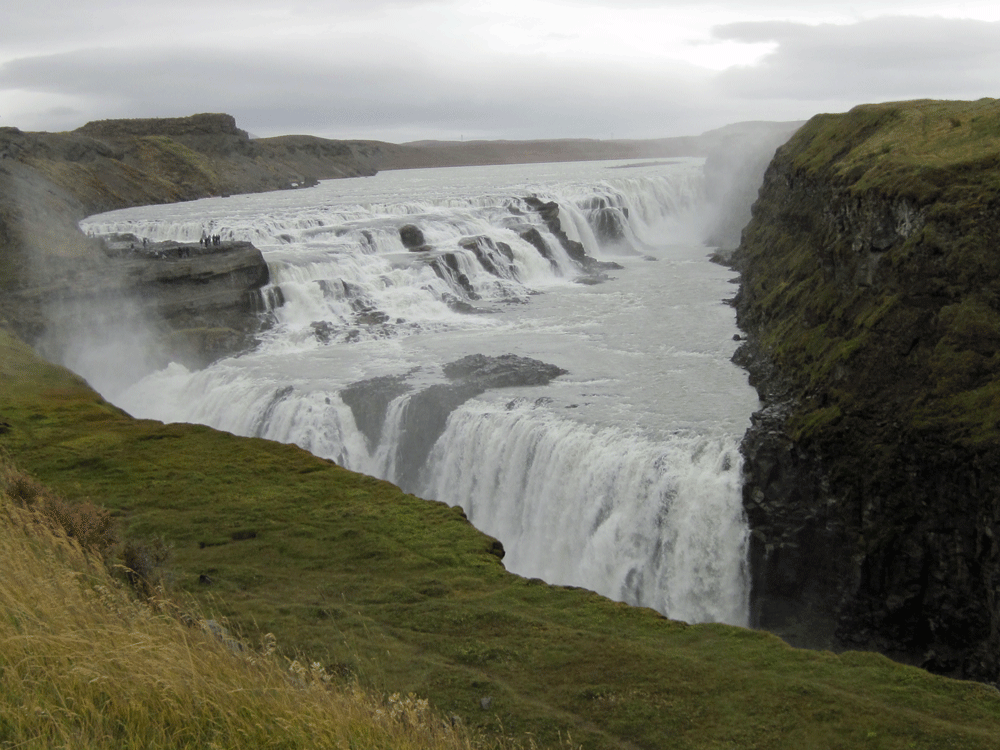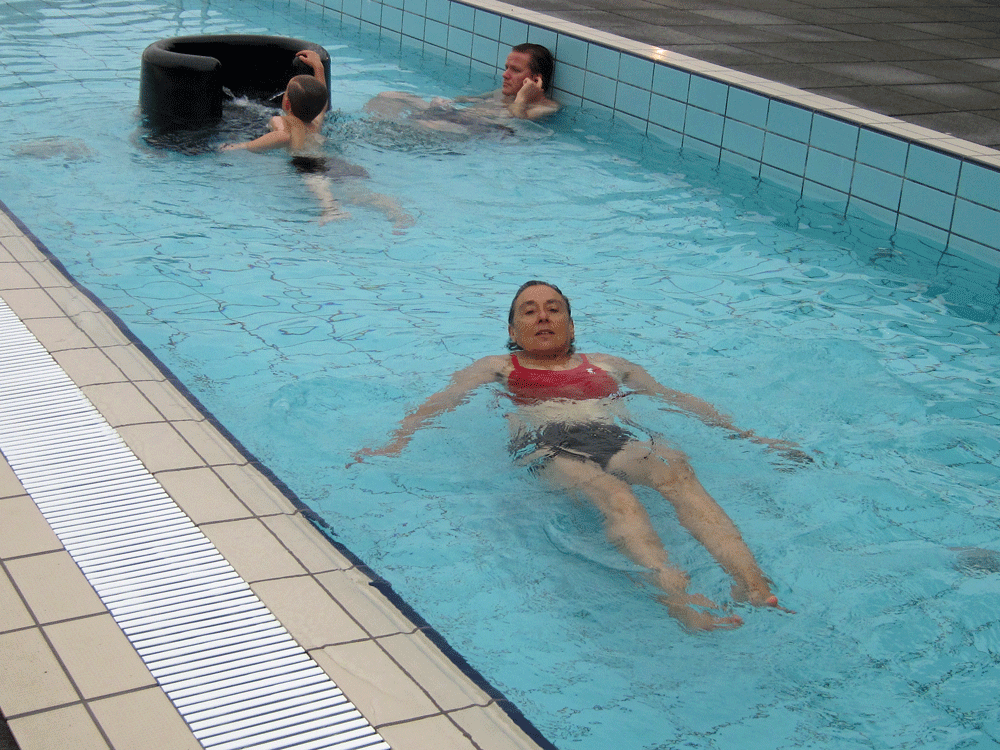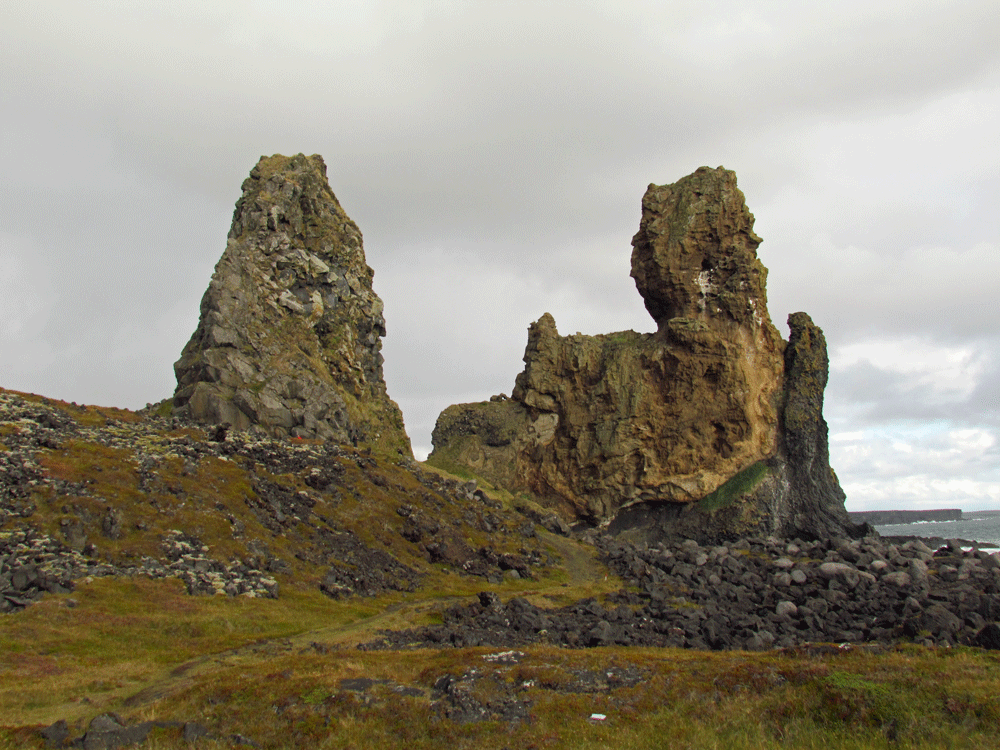 NOTE: Norway and Iceland are currently very expensive. Noticeably more so than New York. Be prepared. Public transport isn't cheap either, much less food and lodging. Our first lunch in Oslo cost $60 for two (very good) sandwiches.
Return to travel page.
Return to home page.